A Personal Approach to Community Healthcare
We know how important it is to be a good neighbour, friend, and healthcare partner. As Canada's largest and fastest growing network of community pharmacies, we take pride in caring for families across the country.
What Makes Us Different

Our People
We're not your average pharmacy network. Our friendly team has your back every step of the way.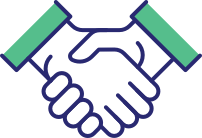 Our Promise
Pharmacies are the hub of community healthcare, so we always keep the legacy, staff, and exceptional level of patient care built by the original owner.

Our Priorities
The pharmacy and the patient are at the heart of everything we do. That's why we embrace each community we enter and tailor our process to their unique needs.
Who We Are
With over 100 years of combined experience, our small team of industry leaders are passionate about providing exceptional patient care to our communities. 
Meet the Team